CT26 Turbo Strip Down.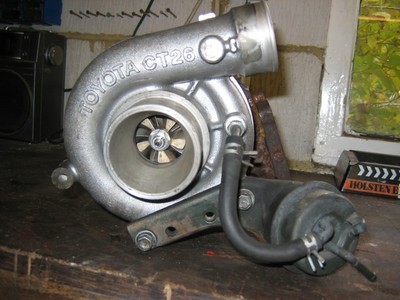 The CT26 Turbo was fitted to the Rev 1 & 2 MR2's only Rev 3 use a CT20B
They were also used on other Toyota models like Celica GT Four and Supra.
Below are some pictures that show how to strip down a CT26 Turbo.
Please click in pics below to see larger image.
Please note that if you are planing to take yours apart that the thred on the
compressor shaft is left handed i.e you will have to "do it up" to undo the nut.
As i did not have the special tool to remove such nut I gently hammerd on
a 3/8 inch (1/4 inch drive) socket, this did the job nicely.
© John Mears 2005
All images remain the property of the owner.